Location: Zac's House
Count: 10
Flavors: Homemade buffalo sauce
Dipping Agent: Blue Cheese
My buddy Zac told me I had to have some of his smoked wings.  So I went by and chatted with him about his process then tasted them.
The Process
Zac smokes his wings around 250 for 2.5 hours.  He uses various woods but for this session he used whiskey soaked oak chips.  He dry rubbed before sticking in the smoker with his custom mixture of spices then we tasted them naked (with blue) and tossed in his wife Lea's simple hot sauce of Kerry Gold grass fed butter, hot sauce and garlic.  I believe it was Louisiana hot sauce but can't recall.  I'll get clarification on that.
The Wings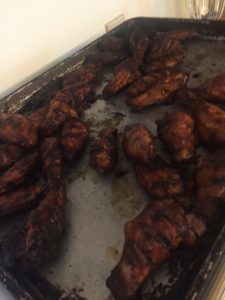 I knew I had more wings to eat that day  yet I could not limit myself.  These wings were extraordinary.  They were tender and juicy with an awesome crispy skin.  The skin was a very hard to describe crispy.  Not like a potato chip, but a tender crisp if that makes any sense at all.  I really wish I could think of a better word to describe it.
The flavor was powerful.  Super smoky with hints of paprika, garlic and bourbon.  It paired immaculately with the blue cheese (very chunky).
I think tossed was better than naked though naked were divine.  The touch of butter and hot sauce just made the whole experience rounded out and perfect.   That's right, I said it, perfect.
Conclusion
Perfection is something we don't see often.  Some believe it's impossible to actually reach.  My personal take is that perfection is when you find no obvious flaw.  These wings are that.  So here's the first perfect score.
Overall Score: 10/10