Location: Wild Wing Café
Count: 8
Flavors: Boss, Atomic and Habanero
Dipping Agent: Blue Cheese
Before I begin, I just want to mention I love the environment of this place. One of the best sports bars I've been to with excellent service. Even when packed my beer stays filled as I try to keep track of the nine football games I'm trying to watch at once. This is one of the reasons I picked this place to watch the Florida vs. Tennessee game. As I walked up to this place I could hear the yelling already. I knew this was going to be a good time.
The Flavors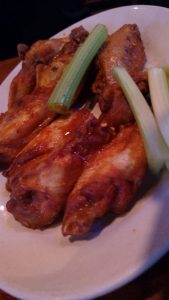 I sat and asked my waitress for the most popular flavor they had. She instantly recommended to me the Boss flavor. I ended up getting an order of Boss, Atomic and Habanero (to try and blast my palate a bit). I received my first Oktoberfest beer of the year, the football game was starting and my wings were cooking… Lets just say I couldn't be happier at that point.
Boss and Atomic came out first. I started with the Boss. They looked great, they smelled great, they tasted like a salt rock. I ate 4 of them and gave the rest away.. Luckily though, I looked up and saw another beer headed my way and the gators scored a touchdown. This almost eased my pain of how terrible the Boss wings were.
Ok next, Atomic. Smelling them I didn't get that twinge of fire I was wanting. Whatever. Examining them they looked nice and crispy. First bite. Not bad. Not hot, but not bad by any means. Definitely not the Atomic I was expecting. An ok medium spiced wing, nothing more, nothing less. I shook my head in disappointment and decided to look up at the game. Tennessee scores… Sigh. Time for Habanero.
Now this was it, this was going to save the score for one of my favorite sports bars. I grabbed one up and took the first bite: Instant regret and sadness. Was it hot you ask? Nay I say. Not even a little. Plus they were overcooked. I ate them anyway as I saw not only the gators take a their first loss of the season but mine as well.
Conclusion
I'm not going to lie. I still love this place and I'll definitely be back. As I said before the environment and service rock. Unfortunately, not for those baskets of so called flavored wings I tried. They do have 28 more flavors. Maybe, just maybe if I'm drunk enough I'll give them one more chance to get a better score in the future.
Overall Score: 4/10