Location: Beef 'O' Brady's (Clark Rd.)
Count: 12
Flavors: Mango Habanero, Spicy Garlic, Nuclear
Dipping Agent: Blue Cheese
I had to go back.  This is a different location than the last experience.  The first time I went and reviewed we had absolute horrid service.  The waitress disappeared for half an hour while our food sat under the heat lamp.
Not sure what came over me but as I ordered I asked for extra crispy.  Somewhere in my subconscious I probably felt an urge to "fix" the last experience and asking for extra crispy was the first thing that came to mind.  Crisp wasn't a problem last time so asking for it was a mistake.
The Wings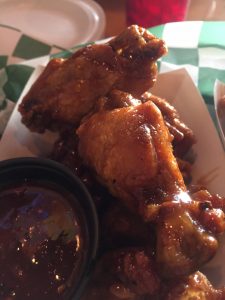 They came out extra crispy just as I asked.  And honestly it was fine for the most part but the thinner parts of wings and the smaller wings in general, were a bit dried out.  This is my fault and I'm taking the blame and will not dock points.
Even cooked like this they were still solid wings.  Good size, good amount of meat and the thicker parts were still good and juicy.  I was much happier this time around and we had great service.
This is a good reason that I don't believe you should ever have to ask for extra crispy.  A proper wings join will serve them crispy and tender.
The Flavors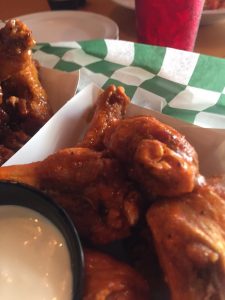 Mango Habanero was good though not Buffalo Wild Wing level of good.  They had a noticeable heat with little push.  The flavor was nice but the sweetness really could have used some extra burn to balance it out.  Just a hint of actual mango came through.
Spicy Garlic was really good, I love this sauce, I buy it by the bottle at the grocery store.  That said, the coating was a little thin, they could've thrown a bit more in the toss pot.  The sauce has a really awesome texture and big garlic flavor.
I only got half and half for sauces but asked for some nuclear on the side.  It's got an in your face, right up front heat but it doesn't strike too hard.  I could easily put down 12 wings coated in it.  Flavor was nice though, it may have been soy and honey or something along those lines backing the spicy peppery flavor.  Had a great consistency.
Conclusion
I'm glad I went back.  I will make this a regular spot for wings as they use quality chicken and yummy sauces and cook them appropriately.  It's not their fault I asked for extra crispy.  I'll probably request heavy coating instead of extra crispy next time though!
Last note, the blue cheese was great.  Not perfect, not chunks like the last two, but did the trick.  Gotta take a half point for only bringing one little cup though.  It was good enough that I ran out with three wings left.
Overall score: 8.5/10