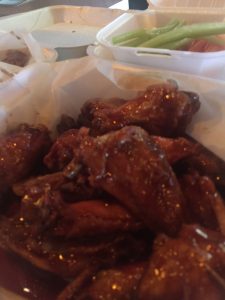 Location: Sarasota Brewing Company
Count: 9
Flavors: Teriyaki & Mixture: Honey Garlic with Barbecue
Dipping Agent: Blue Cheese
You can't do a Sarasota wings quest without hitting up Brew Co.  I've probably had more wings from this place than the rest of srq locations combined.
It was no surprise when these wings came out absolutely glorious.  One thing I've found Brew Co. does just right is their consistency in product.  The wings were big, but not too big.  They were juicy, hot, crispy and COVERED in sauce.
The Flavors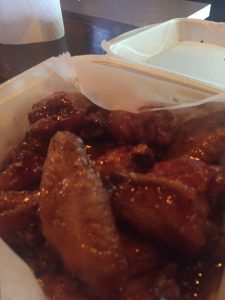 Teriyaki is a big favorite here.  It's not overly sweet and has an umami depth with bursting soy and teriyaki flavor.  It coats the wing completely and you can't ask for a better meat to sauce ratio.
Honey Garlic mixed with Barbecue was my wife's idea.  I like the honey garlic a lot but it doesn't really stand so well on it's own.  It's very sweet and garlicy but is lacking an edge.  This blend was perfect! I will absolutely be requesting this all the time now.
The honey garlic has lots of real honey in it.  This makes eating these wings a bit difficult because the caramelized honey is SUPER hot to touch.  It takes a long ass time to cool down.  I noticed this effect was still there even when blended with the BBQ so be carful.
The tanginess from the BBQ with garlicy/honey blend was delicious and I couldn't stop eating them.  Usually, when getting multiple flavors, there's a favorite and you end up eating mostly that flavor so you don't fill up and regret not getting as much of it as possible.  This was not happening.  Both flavors were equally delicious and different enough I found myself going back and forth between them.
Conclusion
The blue cheese is excellent.  Thick, full of chunks and they give you enough to make sure you get through all your wings with fair amounts.
Brew Co. is the pinnacle of Sarasota wings.  My only criticism would be their hot/extra hot are never hot enough so I avoid them.
Overall Score: 9.5/10