Location: Norma Jean's Sports Bar & Grill
Count: 7 (of 12)
Flavors: Sweet Chili, Asian Garlic & Garlic Parmesan
Dipping Agent: Blue Cheese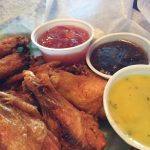 I try not to judge a cover by it's book but it happened today.  Norma Jean's is a very bland, unbranded looking sports pub.  It has no design aesthetics or theme other than a couple typical bud light signs and coasters.
I'd give it some love if it felt like a shitty dive bar but it didn't have that going for it since it was on the corner of a very modern, commercial complex with a target and some yuppy stores and was super clean inside.
Could this detract from the eating experience? I'm not that shallow.  So the cover was dull, I knew it could still make some awesome food so let's give it a shot.
The Wings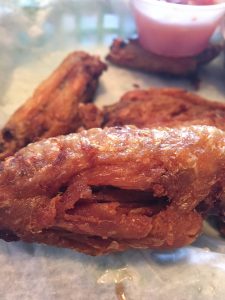 When ordering I asked if I could get two different sauces on 12 wings.  I was told unfortunately not.  On Tuesdays I could come in and they do $0.50 unlimited wings, then you can mix and match all you want.
Well that makes a lot of sense.  So when you get to annoy the hell out of them all night for super cheap wings making them toss 3 here, 5 there and so on it's no big deal.  But when I want an order of 12 more expensive wings and just want 6 tossed with one sauce and 6 another, no way! That's too much work!
The waitress, by the way, was very sweet in letting me know and she seemed a bit confused as well as to why they wouldn't.  She told me I could order them naked and try as many sauces as I want, so I went with that.
The naked wings exposed all the horrors that would've been hidden if I'd had them tossed.  They brought me bone in chicken jerky.
I like my wings extra crispy, but these were so over fried the meat was barely accessible and my god was it dry.  When I see big gaping holes in the wings I know they've been fried into a shriveled mess without even feeling them.
The Flavors
Sweet Chili – A thai sweet chili.  It was fine, a bit gloopy for me but the flavors were solid with a touch of heat.  Pretty standard for a sweet chili.
Asian Garlic – Not sure what was going on here but it was unappetizing to say the least.  Another big gloopy mess with overwhelming soy sauce flavor and I did not detect any garlic.
Garlic parmesan – More like melted butter with a hint of garlic.
Conclusion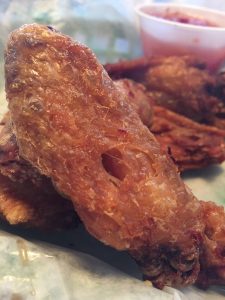 I judged the cover.  It looks boring as hell on the outside because it has no substance to design for.  The wings were awful, I choked down 7 because they weren't gross they were just so dry and flavors boring as hell.
The waitress, again though, was SUPER sweet and she took them off the check so I didn't pay for them.  She offered to bring me another order but I passed and I tipped her very well.
The blue cheese wasn't bad.  Not as chunky as I'd like but at least it wasn't luke warm and yellow like a couple places I've eaten.
Overall Score: 3/10