Count: 6
Sauce: House Spicy Sauce
Dipping Agent: N/A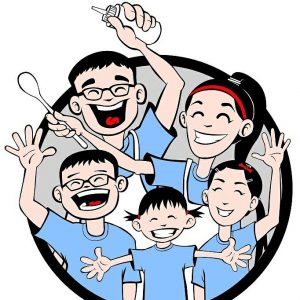 I gotta start this off with a little disclaimer.  Charlie Chi, or as I lovingly nicknamed him, Chucky Chee is a good friend and I love the guy to death.  But I'm not going to blow smoke up his ass.  I take pride in keeping my reviews here as honest as possible.  But yea, his BulGoGi Sarasota is my favorite food truck in town.
All I ever order is Charlie's Pork BulGoGI extra spicy.  It's just so good I can't bring myself to order something else.  We do get the sides regularly and they are all awesome, but that is my go-to, every time dish.
Charlie's a family man.  Him and his awesome wife Soo and his beautiful children are all smiles all the time.  They bring you joy even if you are in the worst mood.  You can't not grin when you say hi to them.
So before I get into this review I want to make it clear that I truly care about this food truck.  Not just because the food is incredible but because the character behind it is top notch.
The Wings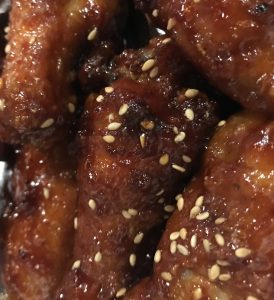 Now, moving past the emotionally draining love dump, these wings came out hot and sexy.  They looked gorgeous.  The sauce coating is about as ideal as it gets.  A nice, full layer of sticky red coats every corner of these bad boys.  The sesame seed sprinkles get me all googley eyed.
The texture was phenomenal: Crispy, caramelized outside and tender, juicy inside.  They were large.  I'm not usually a large wing fan.  I like a nice medium sized wing for sauce-to-meat ratio.  These were different though.  That sauce coating I mentioned, yea, it allowed every bite to have proper flavor and blend.
They tasted fresh.  This was quality chicken.  Friggen tasty birds, man.
The Flavor
Strong chili flavor, slight smokiness and umami depth all tied together by a dark caramel sweetness.  If there's one thing Chucky knows it's sauces and I'm a sauce fiend.
Conclusion
These wings are fucking delicious.  That's my conclusion.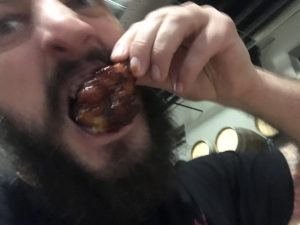 But I do have a couple critiques.  Love you Charlie but I have to be real on this blog.
Wings need a dipping agent.  I don't care if it's some other random sauce or a traditional blue cheese or ranch, but wings NEED a dipping agent.  These don't have one.  They stand alone just fine.  Hell, they stand alone exceptionally, but it's the #1 rule of wings: Dipping Agent.  Okay, maybe it's the #2 or #3 rule… but still.
The wings are $10.  I got 6 wings.  The pricing is a little exorbitant.  8 wings for $10 feels fair, or 6 for $8 even.  Anyway, not ridiculous but more than I'd typically pay for wings.
So these easily have a 10/10 potential but I gotta dock a little for those two items.
Overall Score: 9/10