Location: Mouthole @ Mr. Beery's
Count: 11
Flavor: Throat Punch
Dipping Agent: None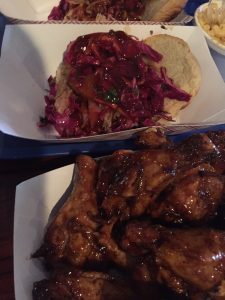 Sometimes there's a man, and he's the man for his time and place.  Today, right now, that man is Ray of Mouthole.  When he pops up the illustrious and mysterious tent and smoker you can bet on a nice line setting up before they are even taking orders.
I've had their smoked goods four times at this point yet I've never had the wings.  The brisket has always been my fav and you can't get better pulled pork.
Mr. Beery's
Today, my home base Mr. Beery's in Gulf Gate was hosting Ray's setup.  I was told wings were on the menu so there was no way I was missing it.
My wife and kid joined me so we ordered $40 worth of food: 12 wings tossed in Throat Punch sauce, two Fat Hawaiian pulled pork sandwiches and a side of mac & cheese.  It was goddamn delicious.
The Wings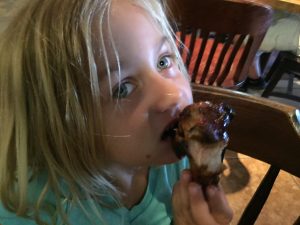 So I reviewed some smoked wings a friend made at home, they got a 10/10.  These were different.  First off they were bigger.  They were very large and meaty.
The meat was so so tender and deeply penetrated with smoke.  The flavor from the chicken alone was mesmerizing.  The Throat Punch sauce is top notch.  I'm very critical on BBQ sauces and I'm not kidding when I say this sauce is fantastic.  The spice level is legit, doesn't kill you but embraces your entire mouthole with a flavorful heat that lingers.  You can really taste the fruitiness of the pepper layered in with the vinegar and sweetness.  It pushes the smokiness of the meat to the forefront while backing it up with pure yumminess.
The skin isn't very crispy, it's not fatty and gross.  Definitely not slimy, just, well, not crispy.  It didn't detract from the deliciousness at all but it did feel like it was missing just a little something.  For that, I typically would need to pull a point.  But I get it, when make this many wings on a large scale you can't smoke them long enough to crisp up or you risk drying them out.
All that said, there's got to be a way to get a little more crisp in it so I'm gonna dock half a point for it as well as no dipping agent.  I bet some high end blue cheese would be amazing with these guys.
The Fat Hawaiian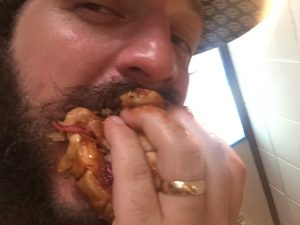 I'm gonna do a little something different on this one just because it was so far beyond amazingly good I can't stop thinking about it.  The Fat Hawaiian is a pulled pork sandwich with honey-lime slaw and a grilled pineapple slice on top.  I dumped a fair amount of the sweet BBQ sauce on it before diving in.
My wife said it's by far the best pulled pork sandwich she's ever had and I'm gonna have to agree with her.  The pork is so so juicy and tender and he loads it up like crazy.  The slaw and pineapple are glorious additions.  The sweet sauce really wraps it all together creating an orgasmic mouthole experience.
Overall Wings Score: 9.5/10
Overall Pork Sandwich Score: 11/10