Location: CeviChela
Count: 7
Flavors: The Wingers
Dipping Agent: None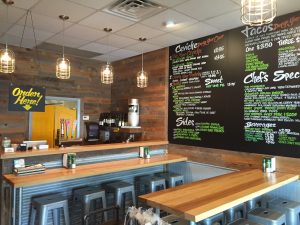 You know the name Darwin? If you are a Sarasota resident you do.  I first heard about him when he took over Mad Crow Brewery and made Darwin's brewery and restaurant.  The food was killer there and the beer was pretty good but not really up my alley.  Then he opened the brewery in Bradenton and something happened, the beer was stellar!
Now he has a new venture on Siesta Key serving Peruvian street food.  And on that menu between the ceviches and tacos are The Wingers:  A small serving of fairly large wings.
The Wings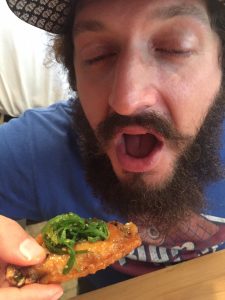 They come out looking super sexy with some seaweed and thin radish slices on top.  These are not buffalo wings, these are not trying to be buffalo wings, and I knew that going in.
But, my caveat when it comes to doing something unique is that it better be damn good.  Otherwise you are just ruining some perfectly good wings if they are mediocre.
These were spectacular.
The meat was soooooo tender with no loss to the crispy outside.  I was a little hesitant before diving in because they were big.  Y'all know how I am about big wings, gotta have a good sauce to meat ratio and most buffalo sauces work best with a medium size wing.
The size works here.  The meat is juicy and full of fresh chicken flavor.  You really taste the dark meat on these guys.  They are nearly falling off the bone.
The Flavor
I don't know what that mad scientist did.  The flavor is a nice, simple layer of sweet with a top layer of sour, tanginess.  I don't know if it's a vinegar or what, the sour flavor was very unique.  And my god did it blend well with all the other flavors going on.
The seaweed and radishes take it to the next level.  It's such an incredible depth and complexity but at the same time feels familiar, inviting and incredibly satisfying.
Conclusion
We've only had one perfect score and it was a friend of mine's smoked wings.  We haven't had a legit business that you can actually go visit reach that level yet.  Well we do now.  Darwin did it, he made the perfect wing for a specialty style.
Overall Score: 10/10