Edit: A reader informed me he had the opposite experience at Wings & Weenies recently so I want to make sure people understand I'm doing my best, unbiased opinion here.  My experience was not like this readers but I feel I should post his response to keep things fair and balanced:
"After a recent visit to Wings and Weenies, I found the place to be in disrepair, lack of attentive service, orders placed incorrectly, dirty floors and ceilings, torn apholstery, and the wings- while of adequate size- were fried in old oil (blackening of the product) and the sauce to be nothing more than Frank's and butter- which broke while under the heat lamp. Therefore, your list cannot be trusted of W&W gets a 9 5"
Location: Wings N Weenies
Count: 11
Flavors: Ninja, Nuclear
Dipping Agent: Blue Cheese
Just gonna get this out of the way, I've been a long time fan of this joint.  They used to have a location near my house and I ordered them all. the. time.
The wings are always crispy and cooked just right.  They aren't huge but they aren't small, which is exactly how I like.  Again: Meat to sauce ratio is very important.
The Flavors
Ninja – I love this flavor.  It's nothing outrageous, or super unique, but it's done just right.  Since the wings are so crispy the caramelized sugars add even more crisp.  It's sweet, it's got a nice teriyaki hint and a few red pepper flakes to make it pop.  The flavor is strong and balanced and goes oh so heavenly well with blue cheese.
Nuclear – This is the hottest sauce they have.  Looks hot, haven't tried yet.  Ok, gonna try.  Be right back…
… okay, wiped my hands off, ain't licking that one.  It's hot.  I've had one bite so far.  At first you get a big red pepper and paprika flavor, strong flavor.  It's more of a paste than a sauce with sprinkled red pepper flakes.  After the first bite I'm feeling a full encompassing heat all over my mouth but I'm not in pain yet.  I can tell that if (when) I finish this wing and eat another I'm gonna have to take a break.  Reporting back shortly …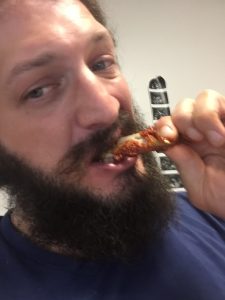 … two down, no need for a break.  Haven't sipped my drink yet, letting it linger to really get a feel.  It's hot, it's damn hot, but I'm able to keep my composure.  No sweats or hiccups yet but my sinuses are cleared up completely.  Onto the next.
… three & four down the hatch.  Side note, they gave me six nuclear: an extra wing!! The heat has increased but I'm still good.  Snot running out the nose a little bit.  Just ate the fifth and still good! Loving the heat though, really big solid whole mouth thing going on.
Number six of the Nuclear in the bag and feeling good.  The heat lingers in the best way.  I can feel the endorphins flowing.  Awesome sauce.
Conclusion
This was a fantastic wing eating experience.  Desperately needed after yesterday's crap.  The blue cheese was yummy but small.  They gave just one little dipping cup which is disappointing.
Overall Score: 9/10