Location: Beef 'O' Brady's (USF Tampa)
Count: 12
Flavors: Spicy Garlic & Mango Habanero
Dipping Agent: Blue Cheese
Beef 'O' Brady's are pretty well known for their wings.  Personally I don't think I've had them before, at least not in a very long time.  That said, I love their Spicy Garlic sauce you can buy off the shelf at grocery stores so I was looking forward to this session.
The waitress was super nice but a bit ditsy.  We ordered beers and when those came back I ordered my wings.  It took 40 minutes to get our food and I was starving.  After taking our order we didn't see our waitress again until we complained to the bartender about our food taking too long.
Anyway, when it came out I was a bit let down.  The mango habanero were coated well but the spicy garlic just had little clumps of sauce and a couple wings had none at all.
The Flavors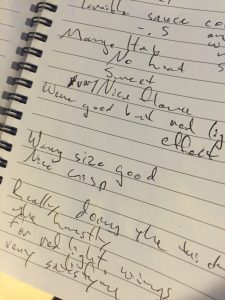 The mango hab were sweet and tasty.  The wings were cooked well and the sauce to meat ratio on these guys was perfect.  That said they were red light warm in temperature which really detracted from the experience.  The meat juices had settled and it didn't really pop that great.  The sauce was also kinda dried up at this point.
These had no heat whatsoever so I'm not sure why they say it has habanero in it.
The spicy garlic was just as delicious as it is from the bottle.  This sauce has a killer consistency and the garlic flavor is booming.  It's just a mild spiciness but it's not claiming to be anything more than that.
Conclusion
The blue cheese was small and barely enough to really enjoy on every wing.
I can't blame Beef 'O' Brady's as a whole for this experience, the server screwed up a lot of the experience by letting them sit in the red light so long.  I have no idea where she disappeared to but her actions really hurt the score of this session.  That said, I will definitely give them another shot, just not at that location.
Overall score: 6/10