Location: Brick's Smoked Meats Downtown SRQ
Count: 6
Flavor: Spicy BBQ
Dipping Agent: Dill Sauce
Brick's has been a staple at the downtown farmer's market on Saturdays for quite some time now.  They recently opened a full restaurant right in the same area.  I've never had their meats before and I was pretty excited to try it today so I ordered up some wings and some brisket.
The Wings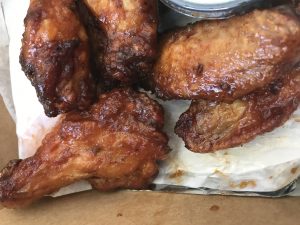 The wings looked very inviting when they came out.  The flesh was a deep mahogany and the accompanied sauce seemed a bit liquidy with green flakes.  I knew it was a ranch variation they must make themselves.
The flavor was brilliant.  There was a heavy vinegar note and some secret spice ingredient that really popped.  It was zesty and bold but not that hot, just a spark of spicy.
Combined with their dill sauce and the moderate level of smokiness, the flavor didn't leave anything to want.  The meat was tender, the skin was crisped up and the size of the wings were perfect.  No bones broke and no oddly shaped ones which leads me to a pretty high rating on these and a strong desire to get some more… and soon.
The Brisket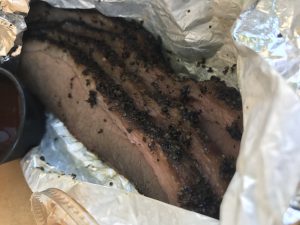 I'm going to make a pretty bold statement here.  This is the best Brisket i've had in the Southeast.  From NC to SC to Bama/Georgia and down to Florida I've had a lot of brisket.  This reminded me of the amazing briskets I've had in Austin, TX and St. Louis.  It is smoky as hell, over the top tender and juicy.  It melts.  Good brisket is tender, great brisket melts.
Thank god for Brick's.  Nancy's brisket is awful half the time so I stopped getting it there.
Conclusion
The only thing holding these guys back from a perfect score was the lack of a house blue cheese.  It would have knocked these wings out of the park.  Ranch is good on wings but blue cheese is meant for wings.
Well, actually, a little more heat would've been acceptable too.
Overall Score: 9/10 on the wings 10/10 on the brisket