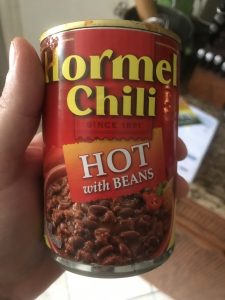 Brand: Hormel
Style: Hot w/ Beans
I've always been a little "judging by the cover" with Hormel.  Any time I've encountered it in life has been at a party of sorts and someone was mixing it up in a crock pot to make some queso or other dip of sorts.
The can is easily spotted.  It is "the" canned chili.  The go-to, the identifiable, the quintessential definition of "canned chili."
I've never had it in a bowl as a meal.
The Chili
While I got a can of the traditional, I also grabbed this guy: The Hot With Beans variety.  I like beans in my chili.  I also like heat in my chili.  I went for a nice run this morning and I've worked up an appetite so let's eat something potentially friendly to my taste buds.
The chili has a great presentation.  It's loaded with chunks of beans and meat, each very visible and distinct to appropriate size and texture in appearance.  Color was spot on, a deep red hue with a blanket of dark yellow-brown.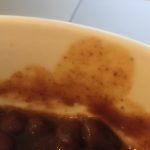 The flavor isn't mind blowing but it's on point.  There's more depth to it than the grey matter I ate last night.  It's got a lovely spice blend that's pretty spot on for a standard chili with a hint of something special.  Not sure what it is but it adds a zesty note.  I like you can actually see a variety of spices in the sauce stuck to the side of the bowl.  This isn't just a blended up mess, there's actual ingredients.
The meat and beans provide subtle attributes to the flavor as well.
The texture is awesome.  I really am a big fan of beans in my chili and this has plenty of 'em.  There's not general mushiness, there's layers of texture.  I wouldn't mind some bigger chunks of meat but I'm not complaining.
There's no crazy "hot" to this.  It has a rounded, smoky heat that envelops your whole mouth.  Not lip tingling, sharp heat.  Just a warming sense.  It's nice, but small and subtle.  Wouldn't mind a bit more pop.
Sprucing It Up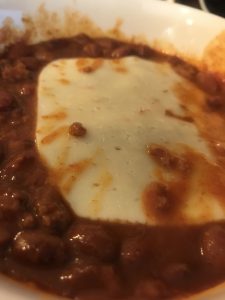 After sampling naked for proper reviewing I added a slice of havarti to melt into it.  I'd definitely like to try this same chili with cheddar but I think the havarti was the correct choice today.
Havarti melts great and is more creamy and mild than sharp.  It works well with the slightly above cookie-cutter chili.
I do think a sharp would also be excellent in this chili, or a goat cheese, but it would be a completely different chili eating experience.
I also like to add hot sauces to increase the heat, but the flavor here was so nice and just "good" that I didn't want to screw with the original blend.
Conclusion
I'm a fan.  I'm full.  This chili is nothing special but it's above average and pleasant through out.  It is absolutely the best choice for a queso dip.  It plays well with cheese and it's not going to overwhelm the dipping experience.
Overall Score: 7.5/10