Location: Munchie's 420
Count: 12
Flavors: Goldrush and Hot
Dipping Agent: Ranch
After yesterday's horror story I still had to get three wings in to meet the minimum requirement of five per day.  I landed in Tampa at 9:30pm and was picking up Munchies 420 at 10:30.  I live a block away so I was diving in shortly after.
Now, I've had Munchie's wings many times.  This is nothing new for me so the review is based on a dozen or more trips there in the last couple years.  They are the only place open til 4:20 in the morning so it's a regular late night stop.  Also, I've lived with in stone throwing distance for years.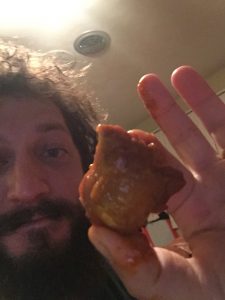 I've always had one, big complaint about Munchies.  The wings are never crispy.  The skin is usually still a bit rubbery/chewy.  Not enough to ruin the meal but enough to where I find myself avoiding quite a few of the wings in the box.
My boy Ferro told me two days ago that I need to ask for extra crispy, so I did.  I must say the wings were in better shape.  They weren't perfect, and there were still a few slimy/rubber skin ones to avoid, but overall the experience was very enjoyable.
I do wish respectable places would remove the odd looking wings though.  What is this, a chicken ball?
The Sauces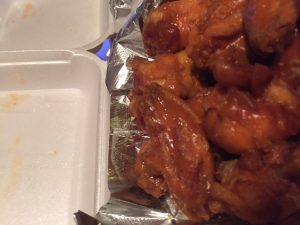 I ordered 10 Goldrush and 10 extra hot.  But the lady on the phone repeated back just "hot" to me and my sinuses were so fucked up that I didn't feel like trying to reach an understanding and just accepted hot.  Goldrush was all I was really after anyway.
This is a very bold statement.  Get it? This is also a bold statement: Goldrush is the best wing sauce in Sarasota.
It's a mustard-based spicy bbq, which is already my favorite kind of bbq sauce.  And they nail it.  The heat level is there for peppering up your tongue, not lighting a fire.  Dat pepperin' let's the various flavors and spices really pop.  And god created chicken juices for one reason, blending with an appropriate sauciness.
The hot was fine.  I should've got 20 goldrush.
Dippers
Fucking room-temp Kraft blue cheese packets.  Cool.  The only reason I don't dock serious points is because I never eat at Munchies and I always have better dippers at home.
Overall I DO have to dock some serious points for NEEDING to ask for extra crispy and still only being ACCEPTABLY crispy.  I can't let the Kraft go unpunished either.  The Goldrush saved their asses though:
Overall Score 7/10