Location: Gecko's @ The Landings
Count: 10
Flavors: Peach Bourbon Moonshine, Pineapple Jamaican Jerk
Dipping Agent: Blue Cheese
Gecko's is a staple round these parts and I'm as big of a fan as anyone.  I often go there for the wings because they are consistently yummy.  Thick, meaty and cooked right.  They have a few caveats keeping them from perfection though so let's go through these issues.
The Sauces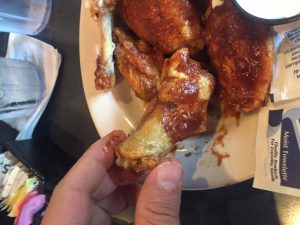 Typically I just go with Hot.  You won't get much heat but it's a solid, garlicy wing sauce that does you no harm and goes down good.  The varieties leave a bit to be desired.
The consistency of the more "crazy" sauces like I had today is more like a jam than a sauce.  It just doesn't coat well.  Don't be afraid cook up them sauces with a little corn starch, it does wonders.
The flavor is good.  Nothing more, nothing less.  It just doesn't POP big flavor.  In my opinion a crazy sauce with three flavors in the name (Peach Bourbon Moonshine) should need no dipping agent.  That is not the case here.
The Agent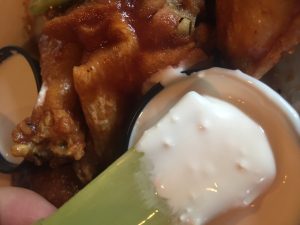 The blue cheese is pathetic.  Watery, flavorless and just some sandy, granules of blue.  A blue cheese makes or breaks a complete wing experience and this is just unacceptable when you have such a high quality meat.
There should never be any blue cheese left when I finish 10+ wings.   I should be scraping the got-dang dippy cup with my tongue.
Big plus though is the celery is always great.  Thick, big and crunchy!
Overall 7.5/10 for Gecko's.