Location: Gold Star Donuts
Dish: Donuts!
My wife and I were throwing a baby shower yesterday and she wanted to have donuts.  She did her due diligence and researched options in town.
We decided against La Dona Donuts, the newish gourmet donut shop in Sarasota because the time we went to check them out we were extremely disappointed.  They literally had one cake style donut batter they used for everything then put "unique" and "fun" toppings on them.  How boring.  They didn't even have any stuffed donuts and that cake batter gets old quick.  Give me some fluffy, normal donuts as well then we can talk.
Gold Star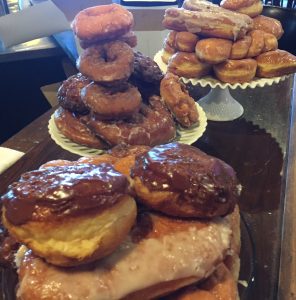 She found this place just north of where I work on Whitfield west of Old 301.  It's a tiny little shop run by a nice, old Asian couple.  I stopped by this morning to check out the wares and unfortunately their credit card machine wasn't operating so I couldn't get anything.  But Kristi picked up three dozen of them yesterday and I got to eat some.
Oh. My. God.  They are incredible.  They were devoured at the party by every one.
The Custard filled was my favorite.  You can tell this custard is crafted with love in their little kitchen.  Custard at chain donut shops tends to come out of a can or something.  It's got the consistency of goop and tastes like sugar and vasoline.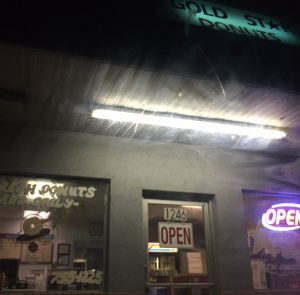 Not Gold Star's.  It has so much bold custardy flavor, it's sweet but not overly sweet.  The rich flavor is delivered via a dense wave of perfectly whipped egg yolks.  It's so silky smooth, you will be impressed.
The bear claws and apple fritters were perfect.  The donuts were all massive, fluffy when they needed to be and crumbly when they needed to be.
My other personal favorites were the maple bars (holy maple flavor!) and the cherry.  The cherry donuts were closer to a cake batter but still fluffier than you'd expect.  The popped with bright cherry flavor and small chunks of the fruit could be found in every bite.
Conclusion
I can't say enough about this place, they are open at 5am it says online, I know I went by at 6:15 and they were open with fresh donuts laid out behind glass.  Do yourself a favor and get some.
Overall Score: 10/10