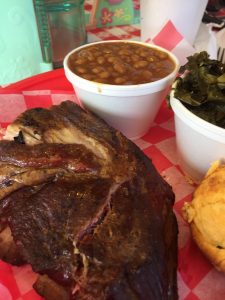 Location: Roadside Rib Shack
Dish: BBQ Ribs & Pulled Pork
Flavors: Spicy BBQ, Spicy Sweet, Mustard BBQ, T-Bone, Alabama White & Sweet BBQ
Man I tied one on last night.  Hurting this morning.  Worked my ass off this week and wound up staying up way too late last night sipping Jai Alais and playing Uncharted 4.
Made myself a big greasy breakfast then we were passing the Rib Shack around lunch time so I figured might as well shove some more food in my face.
The Shack
I used to work across the street from this place at Sarasota Memorial when I was their Webmaster.  I stopped in here a couple times, but that was about six years ago so it's been a while.
It's a little hole in the wall tucked into a commercial strip next to a laundry mat.  It's hotter than hell inside, we were sweating bullets while eating our lunch.  But the BBQ is solid.
The Goods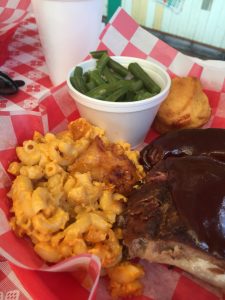 The meat was good.  The ribs were tender and falling off the bone.  The skin was a little weird but didn't detract too much.  The pork was good too but a bit dry.  Can fix that up with the sauces but could've used a bit more grease content.
Also the smoke level looked good, you could see the penetration depth in the meat.  But it just didn't taste that smoky.  I'm a hickory man, I like a big bold smoky flavor so I could've used some more here.
The sauces are where it's at though.  They have a wide array ranging from sweet, hot, mustard and vinegar BBQ sauces to a thai style spicy-sweet and even an Alabama white.  I haven't seen an Alabama white outside Bama before.  But yea, they got all the state styles covered (NC vinegar, SC mustard, AL white, TX/OK reds).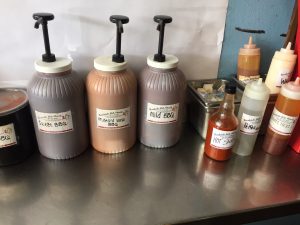 All the sauces are laid out for your convenience so you can get as much of any of them as you want.  That is awesome.  I'm a sauce freak so I tried them all.  Here are the highlights:
Spicy BBQ
I kept coming back to this one.  It's got a nice balanced heat and a full bbq flavor.  It's got a good thick consistency and a bold tanginess with just enough sweet to balance it out.
Spicy Sweet
This is a thai style chili sauce I think.  It's got a pleasant, fruity sweetness with a sharp, habanero-like spiciness.  It was really good but I wasn't feeling it on the smoked meat.
Mustard BBQ
I'm a big, big fan of the South Carolina style mustard based sauces.  I make one myself that's really fucking good.  They do a good job here.  The consistency is great, the mustard is just a backbone to a world of spices.  I think it's a little sweeter than a mustard based should be, but again it's a solid sauce.
T-Bone
This was my wife's favorite.  It's also a mustard based but it's got some red in it, think a bit of tomato paste maybe.  It's got a really tangy edge to it approaching red bbq sauce territory.  I liked it a lot, mixed with a bit of the spicy bbq was just about everything I was after with the pulled pork.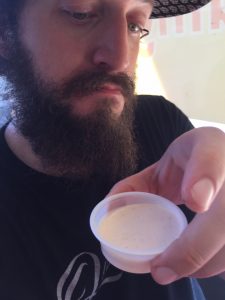 Sweet BBQ
Not much to say, pretty standard sweet bbq sauce.  Not really my thing, I find them all to be one-dimensional typically.
Alabama White
This is an interesting sauce.  It's a staple in parts of Alabama though it's a fading style there.  It's a lot harder to find than it used to be.
The white is typically mayo based with some apple cider vinegar, spices and a bit of horseradish.  I've never been a huge fan, but they do a good job here hitting the style notes.
Conclusion
This is a solid, southern BBQ joint.  It ain't perfect and it's certainly nothing super special, but I love the array of sauces and unlimited access to them.
The collards were great! The beans were great! The mac & cheese was meh.  I'll be going back again, sooner than six years this time though.
Overall Score: 7/10