When it comes to convenience or grocery store cheese dip there's jarred queso and there's refrigerated queso.  I find both to be capable of wonderful things though there seems to be a consistency in quality of refrigerated varietals that is lacking the jarred territory.
I'm stocking up on all I can find and will be presenting a series of shelf bought queso reviews.
This guy, Olé's Medium option, is carried at Publix fairly often but there are times I've gone and it was not stocked.  When I a see it, I grab it.  I'll get into the subtleties shortly but I'll let the cat out of the bag and say I'm a big fan right up front.
Consistency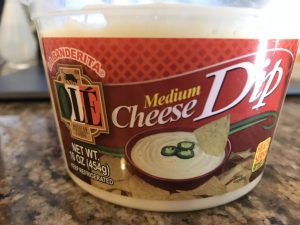 Since it's sold refrigerated you have to heat it in small 30 second increments while stirring between each.  By the time it's hot it is very liquid and doesn't stick well to the chips but less than a minute of cooling down and it has excellent chip cling.
It leaves a thick coating that gets caught all up in my beard and mustache.  But that's cool! My wife likes to try and wipe it off my face but I tell her it's just not worth, let's wait until I'm done.
Flavor
This brand really nails the Mexican restaurant flavor.  It takes it a step further with a nice blend of diced chili and jalepeño.  They provide a lite heat but a strong presence in taste.
I'll give it one comment that could be taken as a negative, but I'm not trying to present it that way.  It's a safe queso.  There's nothing overly unique about it.  That's ok though, it's good to have a staple you can depend on.
Conclusion
This is a must buy.  It's a step above good and approaching great territory.
Overall score: 8/10.