Location: Mandeville Beer Garden
Count: 9
Flavors: Buffalo
Dipping Agent: Blue Cheese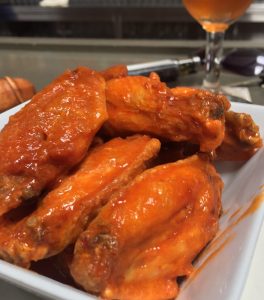 It's been on the list for a while.  Mandeville opened a couple (few?) years back on Lemon just north of central downtown.  It's a lovely space and when I lived nearby I would frequent often.
The beers are a bit pricey but they are top line drafts and bottles.  The food was … not good when it first opened.  I'm talking a week or so after.  The wings were chewy, the fries were soggy, it was a bad first impressions.
But the word spread they took care of this problem quickly.  I went back months later and had the fried pickles and was very happy with it.  It has been some time since I've gone though.  Moving to the bottom end of Sarasota makes it pretty out of the way.
Phil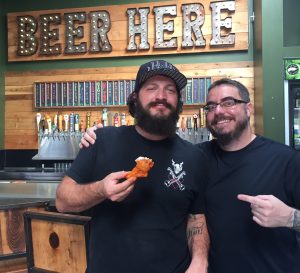 My boy Phil works there.  He's a manager of sorts.  I've known Phil for nearly as long as I've been in this town.  We've had some experiences together and I'll always have a big ol' soft spot for the guy.
So it's nice to know I'll get a big hug whenever I venture over.  Phil was there today and first thing out of his mouth was, "here for the wings I'm guessing."
No Phil, I'm here for you bubba, but the wings are getting reviewed so do your thing.
The Wings
Phil said to order them "crispy."  I didn't have a choice, he put them in that way.  He also said, "you're getting buffalo." Sounds good to me.  I like not making choices.
They came out very inviting.  Big fat buffalo aroma, steaming still and piled nice and pretty.
They were great.  The skin was taut and very crispy, the meat was juicy and tender.  They were approaching too big but never quite crossed the line completely.
The buffalo was obviously Frank's which is super fine with me.  On a perfectly cooked wing Frank's does the job just right.
The blue cheese was different.  It didn't have any super chunks but it had a very creamy, richness that was a great contrast to the medium-big, ultra crispy wings.  I typically like massive chunks, but this worked with these wings so can't hate on it too much.  That said, I wouldn't have gawked at some real hunks in there.
They also did something to the blue cheese, maybe some paprika? Some sour cream? I don't know but it had almost a ranch and spice edge to it.  Very delightful.
Conclusion
I'm a happy camper.  These wings were quality and when I go back I'll be ordering more.  Only points I need to detract are due to one of the flats had a bone break while scraping the meat, the blue cheese could use a better quality base to reach perfection and the size while not quite too large, a couple of them were a bit bigger than the comfort zone (see one in pic with Phil and me).
Still, highly recommend you check these out.  Just make sure you ask for "crispy" because I'm not sure what the standard is.
Overall Score: 8.5/10