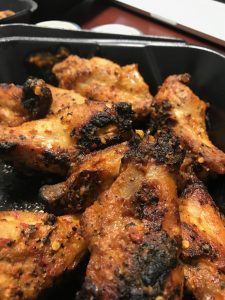 Location: Origin Craft Beer & Pizza Cafe
Count: 20
Flavors: Hot, Garlic Parmesan
Dipping Agent: Blue Cheese
I always hate when someone recommends a place, they really are excited about the food, but then I go and it's not good.  I feel I'm saying "your taste sucks" when I post the article.
I was worried that was going to happen today when I saw on the menu online that the wings were baked.  Eek! Had to try them, though.  And fotunately, they weren't bad at all!
The Wings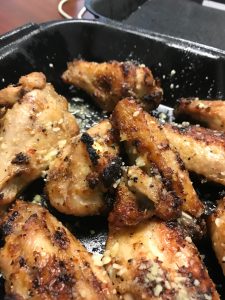 The wings are big and meaty.  A few of them, maybe 25%, crossed the line of too big for me.  I mean, I'll still eat them but I feel like I'm eating a chicken leg and not getting the wing experience.
But these things are good.  I don't know how they pull it off but the skin is a really good level of crispy for the most part.  I mean, again, there's a 25% rate of not appropriately crispy, but for the most part…
They season the hell out of them with Italian herbs.  There's no weird fat nodules or unexpected chewy bits.  These are damn good wings.
The Flavors
I'm very impressed with both.  The hot has a nice kick to it and really lives up to it's name.  It's not called extra hot, or nuclear, or TNT like a lot of places called their sissy heat level.  This is a spicy kick "hot" wing.
The garlic parmesan is bursting with flavor.  They nail it.
Conclusion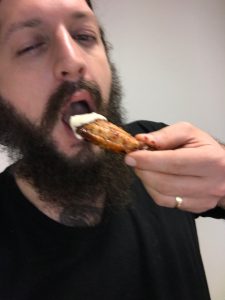 The blue cheese tasted a little "bad." Like a sourness that's not supposed to be there.  Fortunately I have a big jar of blue cheese in my office fridge.
The other down side is between the too big ones and the not crispy ones, it wasn't the best experience picking out which wing to eat next.
But they were damn good overall and I wouldn't mind going back when in the area.
Overall Score: 6.5/10