Location: Yoder's Restaurant
Dish: Meatloaf
Yoder's is such a jewel in this town.  From their fresh market to their ice cream to their restaurant and even their lovely, Amish presence are just a breath of fresh air.  I've never had anything bad from them.  All their food is made with a certain home-cooked charm.  Their pies? Dude, their pies… incredible.
The Loaf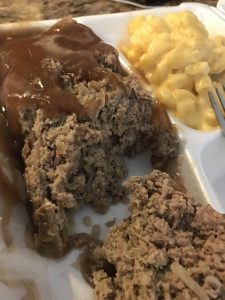 So today I swung by and picked up a meatloaf for lunch.  Came with two sides, got the fries and mac & cheese.
The loaf was MASSIVE.  Especially compared to the gourmet meatloafs I started this challenge with.  I mean, it looked like 2 or 3lbs of ground beef, and all for ~$10.  I don't recall the price, but I also got chicken fingers and the total was like $20.
It's covered in a brown gravy and looks extremely unpleasant.  But hey, meatloaf has always looked unpleasant.
I took a bite and it was fine.  I was happy to not feel any mushy breadcrumbs, that was super cool.  It was very beefy and cooked great.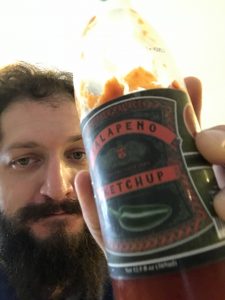 It was just, well, boring.  The gravy was boring, the meat was boring, the color was boring, I was bored.  I mixed it in with some of the mac and cheese and that definitely made it more of a delight.
But there just wasn't much going on with the flavor.  It was like a big pile of cooked meat with some diced onions.  If they spiced it up, they didn't much.  The gravy was pretty plain jane too.
I'm not trying to hate here.  I definitely like it more than I thought I'd like meatloaf before this challenge.  There was just no depth, no draw to make me want to order it.  If I want a block of cooked ground beef with some simple gravy I sure as hell ain't going to a restaurant for it.
Fortunately I had some of this kick ass jalapeno ketchup in my fridge that also took it up a notch.
Conclusion
What I love about Yoder's is their no non-sense, like mom used to make approach to their dishes.  Except my mom was a terrible cook.  Typically, they serve food like my neighbor's mom made but this was definitely my mom level of meatloaf.  Though my mom's meatloaf had the bready chewed up texture like typical loaf jobs.
It was by no means gross.  I ate most of it but I blended it with other things in different ways like the mac & cheese and my own spicy ketchup.
I won't be ordering it again but if you are into straight up loaves of meat then this one might be for you.
Overall Score: 6/10