Location: Made
Dish: "Four" Meatloaf
Today I went to Made as it had been recommended quite a lot.  It's in good proximity to my work and I had a lot to do over my lunch break so I couldn't drive across town to find a loaf.
The Loaf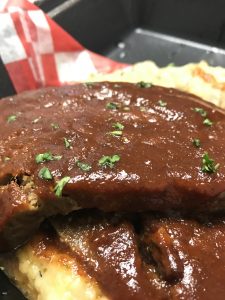 At $19 my wallet wasn't happy, but Made isn't known for being cheap.  It's known for crazy, delicious and hearty food.  I was eating brunch there regularly for quite some time.
Here's how the menu describes the loaf:
"Billionaire bacon, roasted brisket, duck confit, and ground beef blend, MADE ketchup sauce, over charred jalapeno pesto and Parmesan mashed potatoes"
Tell me that doesn't sound amazing.  Well let me tell you right now, it is.
The texture is incredible.  It's like a high quality burger.  There's no bready, chewed up food presence.  The meat blend is apparent in the depth of flavors.  It's all so tender and MEATY.  God, I'm in heaven.  Hold on, need another bite.
There are small bites of carrot mixed into the meat that add a secondary, light crunch.  It's just enough essence to give a nice variety to the bite.  You also get bits of the billionaire bacon and stringy brisket.  All these little extras just pop and blend over the beef so well.
The Sauce
The MADE ketchup is far more like a BBQ sauce than a ketchup.  I definitely prefer this.  It's tangy, thick and coats the meat very well so you get a nice amount with each forking.
It has a smokiness to it and just enough sweetness to round out the experience.  I hate when ketchup or BBQ sauce is overly sweet.  This whole thing is just the best savory and hearty combination.
I'm a huge fan.
Conclusion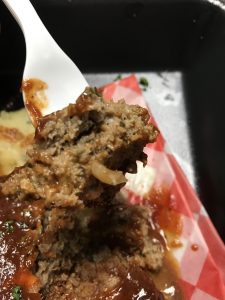 The mashed taters remind me of my own.  They are creamy, buttery but have some small chunks of potato from a "lazy" smash.  I highly prefer this over silky, smooth potatoes.
I'm not sure if this can truly be labeled a meatloaf.  I believe, traditionally, it needs to have breadcrumbs in the meat blend but I can't tell if this has any or not.  If it does, they made it just how I'd want it where they aren't destroying the meaty texture.
My only concern, and it's not a small concern, is the meal size for the price.  At $19, give me a third strip of meat and something green.  The broccolini from Libby's yesterday helped the whole experience feel a bit more balanced.  Today I opened the box to see a somewhat disparaging replacement for a $20 bill. (I tipped, so actually was $21).
Overall Score: 9/10