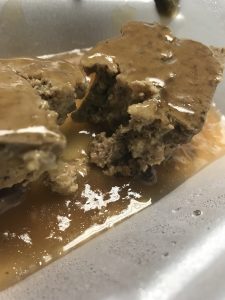 Location: Millers Dutch Kitch'n (Bradenton)
Dish: Meatloaf
I'm so glad this challenge is over.
I'm gonna spare you any sort of in depth analysis of this meatloaf.  This loaf is incredibly inappropriate. It looked and tasted exactly like canned dog food.  I'm not exaggerating here.  It was like mushed up canned gravy & beef dog food.  It was horrid.
It had no texture to speak of.  It was like cream of meat.
It's so disgusting I took one bite and the threw the rest away.  I was able stomach 1/4 of yesterdays and half the day before, but this is just ridiculous.
I ask this again.  WHO THE FUCK ORDERS THIS??
I can't even dip the fries in the gravy because I'm so disgusted.  The green beans had to have come out of a can, then boiled to death.  The fries are shit.  And they gave me packets of Hunt's ketchup.  Mother fucking Hunt's.
Fuck this noise, I'm gonna do at least another 20 years of no meatloaf.
Overall Score: 0/10