Location: MOJO Kitchen, Jacksonville
Type: Smocked BBQ
Dish: Brisket & NC Pork
I was in Jacksonville for my wife's baby shower this weekend.  I was told this place had some killer slow smoked then flash fried wings.  Sounded like a good plan to me so we made our way over.
Of course we get there and settled in and dude tells me they've run out of wings.  Sucks, but the food looked really, really good so I had some brisket and pork.  They had an array of five different bbq sauces right on the table and I'm a sauce man at heart.
So, I see no reason I can't talk about things other than wings here.  I'm gonna tell you about this food, cause I took notes and I want to.  And it was some damn fine bbq.
The Meat
The brisket was solid.  Brisket's a challenging meat to do right.  The correct tenderness level can be really tough to reach.  I've made mediocre briskets far more than I'v made quality.
They nailed it here.  The fat melted on your tongue and the meat fell apart in your mouth.  It was missing a good bark.  I mean it was ok but not really charred to my liking.
The pork was good.  I got the North Carolina Pork, the other option was just labeled "Pulled Pork (Shoulder)."  I  was curious what the difference was, I figured maybe the NC was mixed with a vinegar sauce.  If it was I couldn't really tell.  My wife had the regular pork and it seemed like maybe mine was chopped finer.
It was all solid meat, well smoked, flavorful and juicy.
The Sauces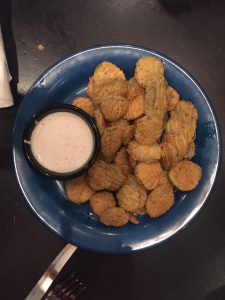 We had some fried pickles as an app and it came out with an awesome ranch sauce.  Seemed unique and I suspect made on premise.  It was a killer, creamy consistency.  Like next-level creamy.  The flavor was a bit subtler than most commercial ranch but I liked that.  Blended really nice with some super flavorful pickles.
Mustard 
The mustard sauce was very, very similar to the one I make.  1 part apple cider vinegar, 1 part yellow mustard.  Mix in a load of spices and some brown sugar to sweeten it up.  I usually eyeball some fresh cracked black peppercorn, chili powder, garlic powder, cumin and some paprika or something like that.  Shake it up real good and serve.
Chipotle
It's spicy.  Great heat level, really hits fast and lingers.  Unlike the typical chipotle bbq sauce you might find from baby rays or some other big brand, this sauce was not super sweet.  The flavor of the chipotle pepper really shined.  It tasted smoky and meaty.  I think it was my favorite.
Sweet
This had the consistency of some quality ketchup.  It was thick and creamy, very smooth.  The other sauces had had a bit of texture to them.  It really fit the flavor.  It was sweet and tangy, more sweet.  I'm not normally a sweet BBQ sauce kind of person, but I did end up blending a far amount of this with some other flavors though
This place was damn good.  The beans were smoky and maybe a touch jalapeño.  The collards super bitter just how I like it.  Tossed some chipotle sauce into them and put em down first.  The cheddar grits were thick, fairly smooth and let the cheddar shine.
Overall, I would highly recommend this place for a variety of BBQ styles all done very well.
BBQ Score: 9/10