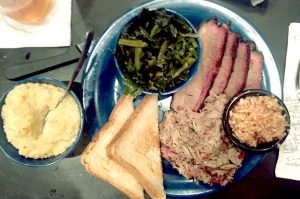 Location: V Pizza, Jacksonville
Count: 10
Sauce: Naked, dry rubbed
This was a very difficult review to do.  I was/am so full from the BBQ we had tonight.  We went to a BBQ place because we were told the wings were incredible.  They were slow smoked then flash fried.  Well we got there and they were all  out of wings.  Big bummer but the BBQ was awesome.
SO it was 9 o'clock and I hadn't had wings and I was so fucking full.  We ordered from the second recommendation to pick up so I could try to digest a bit.
The Wings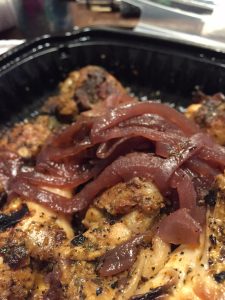 I had to let these sit for an hour on the counter in their box as I just couldn't put any more food inside me physically.  So when I finally ate them they were room temp and the bits of skin floating in grease were soggy.
These are baked and most people don't bake wings right.  It's a process to really get them right using an oven.  But I feel these guys made a great oven wing.  They did something I hadn't seen before.  They baked it just like you would a whole chicken.
They have it possibly marinated or injected.  The flavor of the meat was strong and really juicy.  They also rubbed it with herbs you'd relate to a baked chicken: What appears to be poppy seed, thyme, rosemary and I think some chunks of garlic.  They were also covered in a pile of caramelized onions.
I'm not a big fan of caramelized onions, or onions in general.  I love their flavor but the texture, no matter raw or cooked, just doesn't hit me right.  That said, the juice dripping all over this chicken from those onions was SO potent and so good.
Conclusion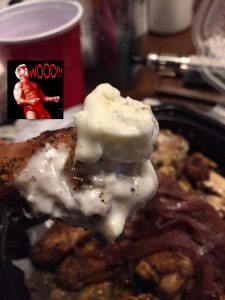 I was offered blue cheese and they gave me two decent sized containers. Right on man, right on.  And check this chunk.  Things fucking massive!
They were absolutely delicious.  I always go straight for the wings off a rotisserie chicken and that's what this reminds me of.  The herbs and chicken profile were exploding with flavor.  So savory with a grassy sweetness.
The only thing is the skins were pretty not-crispy.  It wasn't missed as much as usual though.  I think being cooked this way it's just not as necessary to be crispy.  And having soaked in grease while I digested my BBQ probably had a little to do with the issue.
Overall Score: 9/10