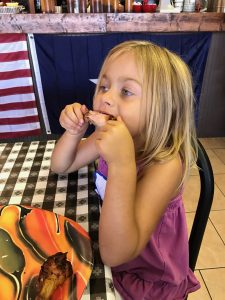 Location: Pride of the South
Count: 10
Flavors: Smoked, Multiple BBQ Sauces
If you are in the Gulf Gate area often you've noticed the giant smoking cylinder by the road, across from Munchies.  I believe it was around a year ago I noticed the BBQ place had opened.  I was one happy camper when I saw.
The marketing was practically non-existent.  I had no clue this was opening then it was just there.  I went very soon after to give it a shot.  Quality BBQ is not as easy to find here as it was when I lived in Alabama or North Carolina.
First Impression
I hadn't been back since that first visit.  I was the first customer on a weekday and the brisket was just not good.  I swore the place off and that was that.
Well, after starting this blog a few people told me to go there.  I got over myself and went to try the wings & the BBQ again this weekend.  Boy am I glad I did.
The Wings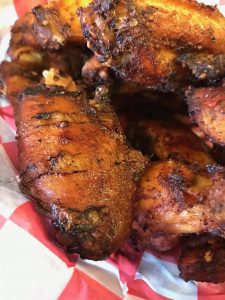 My favorite wings I've had so far were from Mojo's in Jacksonville.  It was the first time I'd had smoked then flash-fried wings and they were exceptional.  I believe it still may be the absolute perfect way to cook and enjoy a wing.
Pride reassured me of that.  They use the same method and my god were they delicious.
The skin is crispy, the meat is tender and smoky, the flavor is huge.  I would like some more smoke though.  It's not for every one, I get that, so I can't judge too hard here but I like big, bold, massive and lingering smoke flavor in my BBQ.  I felt Mojo's really hit that whereas Pride wasn't quite at that level.
The Flavors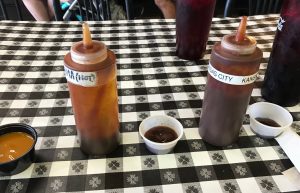 It's a sauce lovers dream in here.  They have BBQ sauces ranging from sweet to spicy to spicy/sweet to mustard based to smoked and so on.  The mustard based… I'm pretty sure it's the same base recipe as Gold Rush, my absolute favorite sauce in Sarasota over at Munchies. I mean it was called "Gold" or "Golden" something.  If I recall correctly this place is also owned by the same guy as Munchies.
My personal combination was taking some of the Bama Hot and blending it in with the Mustard one.  My wife was digging the Mustard mixed with the St. Louis I believe.
The Hickory sauce had my hopes up for super smoky but the smoke level was only slightly noticeable.  The spicy sweet had a touch of heat and the Bama Hot had a moderate heat.  I'd like to see something with a little more umph.
The BBQ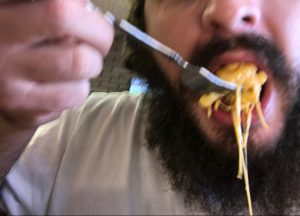 We got the pulled pork, mac & cheese and the baked beans as well.  Let me tell you right now, all three were ON POINT.  The mac & cheese and beans may be the best I've had in Sarasota.  In fact, that mac may be the best I've ever had at a restaurant when it comes to standard cheesy mac.  This stuff was SO cheesy and flavorful, my wife was hesitant to share.
The beans were great as well with some giant chunks of smoky meat mixed in.  They were a little too sweet for my preferences, but most would be very happy with them.
Conclusion
I'm gonna have to go back… regularly.  I need to give the brisket another shot.  I understand that brisket is the hardest BBQ to get right.  It really is, I've tried a dozen times to smoke brisket and maybe two of those times to it actually come out above average.
I'd like to have some blue cheese offered as well but I fear it might be Ken's packets like their other venue, Munchies.  It wasn't needed, the BBQ sauces were very satisfying with the wings but I mean… blue cheese, c'mon, let's have it.
Overall Score (Wings): 9/10
Overall Score (BBQ): 9.5/10