Location: Oak & Stone
Count: 10
Flavors: Butter/Hot Sauce
Dipping Agent: House Ginger Mustard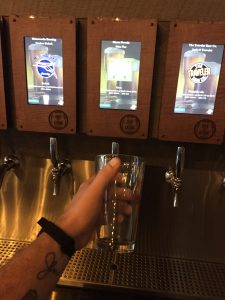 Couple people told me I need to hit up Oak & Stone.  I had heard the name in passing but didn't know much about it.  Being in the deep hole of Gulf Gate I don't venture out to the University area that often.  It's not a huge stretch from work though so today was the day I made my way over.
One really neat feature was the wall of beer.  With 60 craft beers on tap, you have a very large choice and you pour your own.  They give you a nifty bracelet that you scan at any tap you'd like to pour:  Half glass, couple ounces, whatever you'd like.
The menu looked great.  I was planning on just getting the wings but I saw the calamari option.  I told my wife on one of our first dates I judge a restaurant based on its calamari instantly.  So dammit, I'm here to judge, let's get them too.
Poured myself a Sierra Nevada Otra Vez and sat down to wait on my meal.  It came out quick.
The Wings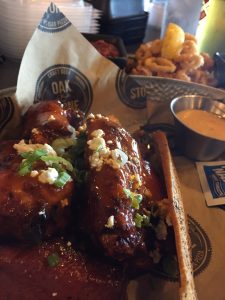 Let's get down to bitness.  The wings were described as baked, tossed in a butter hot sauce and served with a house ginger mustard.  Sounded fancy but in my mind I thought, "oh look, another place serving butter mixed with Franks."
When they came out, I instantly knew that thought was wrong.  They were steaming hot, glazed with a dark sauce and sprinkled with some very inviting blue cheese crumbles and chives.
I like the blue cheese being involved even though it isn't the dipping agent.  I would've been pretty sad otherwise.
Don't Sit Next To Me Here
Ever taken a bite of something then immediately want to turn to your neighbor and punch them in the face for not living up to their potential?  "Dammit, Ferro, why can't you be like these wings?!" That just happened to me… twice.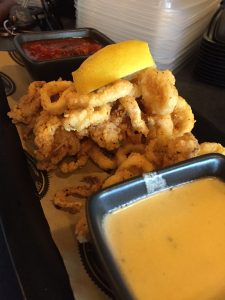 I tried the calamari first as I haven't had it in a while and my love for it is near the same level as wings (when done right of course).  Here's some quick judgement for you, 10/10 on the calamari.  Came out crispy and well battered with a super tender meat.  Also served with a marinara and a cheese sauce, possibly a beer cheese sauce.  The red was top notch, seriously blasting with flavor but I couldn't get enough of that cheese sauce.  Never had that with calamari and I'm a big fan now.
The wings had cooled down just enough to bite into.  It was bliss.  After two days in a row of mediocre to shitty wings, this was like dining in Ralph Nader's Swiss chateau on the alps with God himself cooking the meal.
The sauce coated the wing oh so succulently.  This house made hot sauce flavor was buttery and seared with a hint of a bbq sauce.  This was no Franks.  The blue cheese crumbles were creamy and a perfect note to the juicy texture when biting in.
The heat level was very appetizing and dipping in their ginger mustard took it to an appropriate level of spicy.  Speaking of this mustard, it's finger licking good.  It's a hot & sweet mustard with a spice combination I couldn't pick out.  The ginger is prevalent but far from overpowering.  I would put this on lots of things… naughty things.
Conclusion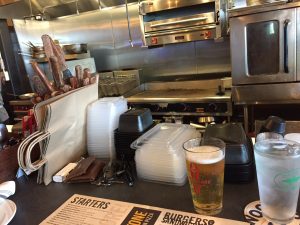 The staff were all fantastic and inviting.  The atmosphere with a big open kitchen and high ceiling is very comfortable.  I'll be taking my wife here very soon.
If I were to nitpick one issue with the wings it would be the same as I gave to Mouthole.  And this is just one of those things with wings when they aren't deep fried, the skin wasn't that crispy.  Did it detract? The preparation, condiments and craftsmanship kept that from happening but as a wing freak I absolute must point it out.
Overall Score: 9.5/10