Location: Campeche Bay (Jacksonville)
Count: 8
Flavors: Traditional Diablo (buffalo), Aztec Dry Rub
Dipping Agent: Blue cheese
Our last day in Jacksonville we had lunch with friends on the way out of town.  This Mexican style restaurant had wings on the menu so it worked.  The food was really good overall.  The street corn was fantastic as was the green and red salsa they bring out with chips.
The Wings
They had aztec smoked wings on the menu or the diablo.  I went diablo because I was really interested in a sauced wing and not solely rubbed.  Regretting my choice now.  She said I could get half and half dry rubbed and sauced so I went that route.
The wings themselves were good.  They were meaty & tender, no dryness but a little bigger than I like.  The dry rubbed surprisingly had a very crispy skin whereas the tossed in sauce were a bit rubbery in the skin department.
The Flavors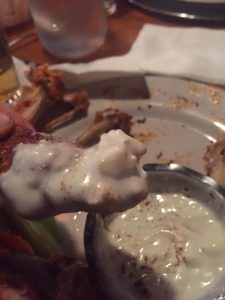 Traditional Diablo Fiery Sauce
It was just buffalo sauce.  Nothing special, no real heat.  They  were boring actually.  I like traditional buffalo but not when I'm expecting something as cooly named as Diablo Fiery. Meh.
Aztec Dry Rubbed
Holy shit these were delicious.  Like I said the skin was nice and crispy, the meat was tender and falling off the bone.  They may have been smoked and flash fried, not sure, they didn't taste smoky but the dry rub was heavy on paprika and really flavorful.  Definitely the best option there.
Conclusion
Overall the meal was really good.  I should've gone all dry rubbed but can't live in the past.  The blue cheese was top notch.  Thick, big as chunks and came out sprinkled with paprika.
Overall Score: 7.5/10