Location: Mojo Kitchen, BBQ Pit & Blues Bar (Jacksonville)
Count: 10
Flavors: Smoked, Chipotle BBQ
Dipping Agent: Blue Cheese
I've discovered the best wings I've ever had in my entire life.  Yea, no mystery to this review, it's a perfect score.  But let me tell you why.
I tried to get these last night but when we ordered dinner they were out for the day.  So I made it a call in order on our way out of town back to Sarasota today.  I am so glad I did.
The Wings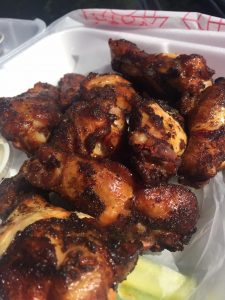 Here's the secret: They smoke them then before serving they flash fry them.  The two smoked wings I've reviewed so far got a 10 and a 9.5.  Obviously I'm a big fan of smoked meat.  Chicken wings are no exception.
The only issue with smoked wings is the skin is often softer than I like and frying is guaranteed perfect if done right.  These guys solve that problem with the flash fry.  It's the best of both worlds in a perfect, harmonious combination.
The wings from Mojo were so incredibly smoky, fall off the bone tender and juice and crispy skin taboot.  I reviewed their sauces yesterday and asked for some to go Chipotle.  Not needed.  In fact, I'm eating just as many with no sauce at all as I am dipping.  The flavor is explosive just from the smoke and flash fry.
Conclusion
The method is absolutely brilliant.  With the quality of BBQ they are producing I'm not surprised the wings are also perfectly smoked.  You can vary up bbq sauces and they are all yummy on it.  Thank you for the experience Mojo.  I'm a happy camper.
These are the best wings I have ever eaten.
Overall Score: 10/10