Location: Wings-n-Things (Tallevast & Lockwood)
Count: 10
Flavors: Garlic Parmesan, TNT & Atomic
Dipping Agent: Blue Cheese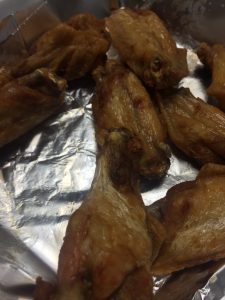 How did I not realize this place was less than 2 miles from my work? And you can order online!!  It's pretty awesome.  I ordered 10 wings and picked three different flavors, selected blue cheese and it had special instructions so I asked for 4, 4 and 2 of different flavors.
Picked em up, said they wouldn't mix less than five at a time (why?) and they put my sauces on the side.  Fuck.  How am I supposed to coat them without being able to toss?  Oh well.
The wings were cooked great.  Meaty, crispy and just the right size.  Some people like them bigger but too big and you lose the meat to sauce ratio.  Unfortunately, there were a few feathers to be found but end of day they weren't that bad.
The Flavors
Garlic Parmesan – Delicious.  Fairly liquidy, but this isn't claiming to be a spicy garlic or buffalo garlic, it's meant to be more of an Italian style.  It's got enough thickness to really cling.  The garlic flavor is huge and the parmesan is there and not lost like you often find in sauces claiming such a cheesiness.  There's a nice blend of Italian herbs to really give this sauce some balanced and powerful flavor.
TNT – Very thin, which doesn't coat well.  Tastes straight up like Franks, just over medium heat at best.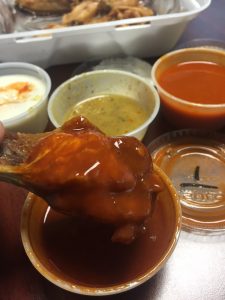 Atomic – This is where it's at.  Look at that fantastic coating.  The heat is robust but is it going to make you cry? Not a chance but I could see ten of these making me sweat a little…maybe.
It's a huge deception in heat level honestly.  Seriously would expect more from being at the top of a large list of hot sauces and called atomic.
It has a smokey heat, I'm guessing a ton of paprika.  Reminds me of Nashville style hot chicken.  Chunks of red pepper seeds floating in it providing the bitey heat but again… ain't nothing crazy.  There's a secret ingredient too, something zesty.  I really, really like this sauce for its flavor and depth.
Blue Cheese
Solid.  Some good chunks and a nice big dipping container for 10 wings.  Has a real wings joint flavor.
Carrots AND celery, woop!!! Big fan of the combo being included.
So this is a big day for the ol' blog.  Wings-n-things has hit an 8.0 on the scale.  I really want to try some other sauces now! Just have to dock them for the heat deception and you know, let me know you aren't going to coat my wings before I order them.
I feel like I'm really stretching to give an 8 here but the overall wing satisfaction really is fantastic.
Overall: 8/10