Location: My got-dang back porch
Count: 16
Flavors: Listed below
So yea, buy one get one free 12 packs at Winn-Dixie.  That's 24 wings for $6.80.  You really can't beat that price especially for the quality.
Grilling wings is an American right written right on page 4 of the constitution.  Taking the fleshy, dark meated bits of a small fowl and rendering their juices over flame comes in the top 5 experiences of being human.
No I don't think the final product trumps deep fried, but it is right on the heels when done right.  Gonna start off with a little video of me grilling these bastards.
Grillin' Up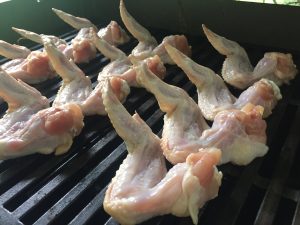 I like my wings to come straight from the fridge to a hot grill.  By hot I mean set to low and let the whole thing heat up with the lid down for a good 5 minutes.  They should sizzle when the touch down, skin side first.
I flip a lot.  By that I mean every 2 to 3 minutes.  But make sure to close the lid after every flip, you want them to get cooked thoroughly.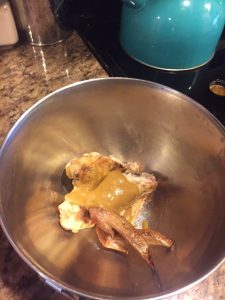 It is very easy to dry these guys out.  You gotta keep tabs on them regularly.  Overall about 20-25 minutes I'd say.
They will turn a wonderful golden brown on both sides.  The skin gets very, very crispy yet doesn't burn as long as you turn and watch, turn and watch.  The final product is a crispy on the outside, juicy as fuck on the inside, delicious pile of meat morsels.  They toss well in sauce.
Get a nice metal bowl, add the wings then cover with a few ounces of your sauce of choice.  Toss 'em like Paul Simon would, just slip sliding around til covered thoroughly.
The Flavors
VooDoo Chef Southern Gold
Super strong mustard and vinegar backbone.  Some hints of spice and sweet.  Could use more balance overall but a great blender.  Love to mix it with a really spicy red bbq sauce and get something along the lines of Munchies 420 Goldrush.
Williamson Bros.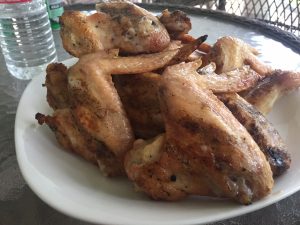 This looks like a sweet red when you see the bottle but it's actually more of a North Carolina heavy vinegar sauce.  Thicker than the standard but has the heart.  I'm a fan of this sauce.  It's thin though so not the best wing coater.
Flavor is a sweet vinegar not sour.  The spice blend is zesty and no real heat.
King Hawaiian Big Island Lava
Finally some heat!! This is a great sauce.  I LOVE it.  Thick and gooey thanks to the corn starch.  Hawaiian yellow ginger, garlic and red jalapeños leaned to a booming islandy flavor.  It is absolutely perfect as a wing sauce.
House of Tsang Ginger Sriracha
This is a very tame sauce.  Not bursting with flavor on wings because it honestly doesn't coat that well.  I use it in stir fries all the time but thought I might give it a shot here.  Probably another good blender, might try mixing it with Szechwan sauce next time.