Location: Beno's Brew & Que
Count: 20
Flavors: Parmesan Garlic & Hot Blend, Plain
Dipping Agent: Blue Cheese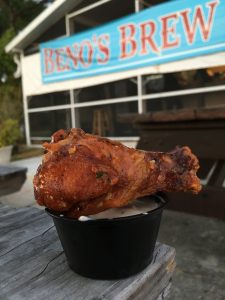 Hi I am Steve.  I run, eat wings, and drink craft beer.  Tonight my wife Stacey and I headed out to Beno's Brew & Que, 320 Tamiami Trail, Port Charlotte, FL 33953.  We've been here a couple times in the past.
Beno's is a simple place.  The dining room is just like your porch and the kitchen is just big enough to be dangerous.  Beno's cooks a limited amount of food and sells out daily.  We have had everything on the menu and it is all fantastic, but tonight was wings and beers.
The beer selection is small at six taps, but they have no crap on tap.  I was a little disappointed that Last Snow from Funky Buddha kicked before we got there, but was happy to see 2016 Celebration from Sierra Nevada on draft.
In addition to Celebration, we enjoyed Creatures in the Dark and Mango Wit from Proof Brewing Company, Endless Summer Pale Ale from Point Ybel Brewing, and Midnight Espresso from Motorworks Brewing.  All the beers were fresh and served in proper glassware: Plastic cups, as any self-respecting BBQ joint should do.
The Wings
After a couple beers we settled into some wings!  Beno's smokes their wings and then flash fry's them prior to serving.  We ordered 10 plain and 10 with parmesan-garlic mixed with the extra hot.  I am a big fan of taking sauces and having them mixed together.  I love garlic and I love it hot so why not!
The wings came out shortly after putting in our order and were piping hot.  The wings are BIG, but not overwhelming.  They looked great sitting in their tins and the sauced wings looked like they were covered, but not smothered.  We got two sides of blue cheese and it did not disappoint.
The wings were moist and had the perfect amount of smoke to them.  I would have liked them to be a bit spicier, but they were just about there.  The skin was crisp on the outside, but the meat was extremely tender and pulled right off the bone.  I usually only eat about eight wings at a time, but found that I could not stop eating these and ten went down all too easy.
These wings are some of the best I have had.  If I could deduct points from anywhere it would be from the level of heat in the extra hot sauce, but that would be an injustice.  These wings are a 10!
Altogether, Beno's is a must hit place.  Call before you come and make sure they have not sold out of what you want.  The tap list changes regularly and something awesome is always on.  Enjoy!