Location: Gecko's Hillview
Count: 10
Flavors: Citrus & Chipotle BBQ, Garlic Parmesan
Dipping Agent: They forgot my fucking blue cheese (That's not blue cheese in the pic, thought it was, it's the honey mustard my wife got for her fries).
When I pay $12 for 10 wings they better be fucking good.  And I better get my fucking blue cheese.  Not a happy camper right now.
And by camper I mean that quite literally.  I'm camped out in the mother-baby unit at Sarasota Memorial cause my wife is having a baby in the next day or so and is being monitored.  So this is my home for a bit, and Gecko's is right across the street.
The Wings
The wings are big, bigger than I typically like.  Mainly the drums, the flats are a good medium-big.
But I want you take a look at some pictures.  I'm gonna put them front and center below this, not embedded to the right or left of the text in-line.
Seriously?
You see those bones? WTF.  Why would a cook put wings that look like that into the frier? Especially when I'm paying $1.20 PER WING.
And the skin? Yea, see that, stretchy, un-crispy skin all through the bundle.  UGH.  COME ON Gecko's.  I KNOW you can do better.  I've had better wings at your location!
I mean, they do consistently have larger wings, and consistently don't have the crispiest, but this was really bad.
The Flavors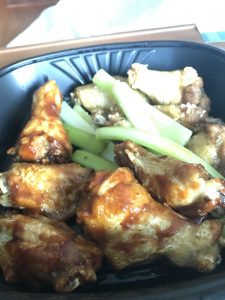 I constantly preach the meat-to-sauce ratio and how important it is.  This is a big factor in why I'm not a fan of jumbo wings.  There's just no way to get the right meat-to-sauce when there's so much meat.
You know what makes it worse? When you have large wings AND you barely coat them in sauce.  Look at this shit! Unreal.
The bits of the flavor I could taste were good but not enough to really taste it well.  When I say bits, I mean it.  There was barely any sauce coverage especially on the garlic parmesan.  What a shame.
Conclusion
I'm really disappointed, Gecko's.  I've been eating with you for years and I love most of your food.  But this is just unacceptable.  These were bad wings and I had a bad time eating them.  Not cool.  And this was take away so forgetting the blue cheese is fucked up.
Overall Score: 3/10
P.S. We're having a boy 🙂