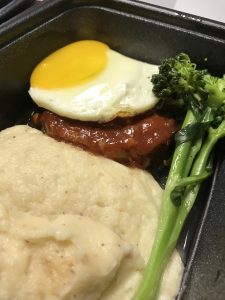 Location: Libby's Cafe & Bar
Dish: Glazed Kobe Beef Meatloaf
Well, it's day one.  I'm questioning my choice here because I'm kind of going with the premium option right off the bat.  Should I have started with a more traditional meatloaf? I don't know, but this is how it's going down.
I'm going into this with my past demons of resentment towards meatloaf.  I'm trying to do my best to give a fresh opinion.  It has been 20+ years since I've had meatloaf so in a way it's like I'm discovering it for the first time.
The Loaf
Libby's comes out looking pretty damn inviting.  It has a gorgeous over-easy egg and a fancy ketchup layer underneath. There's a side of smooth mashed potatoes and two cups of brown gravy.  And I'm a sucker for some broccolini.
I make sure my first bite has some egg and yolk on it, as it appears that's how I'm supposed to enjoy it.  Everything tastes lovely together.  I'm still getting a hit of the "pre-chewed burger" vibe I get from meatloaf in general but there's more solid meat chunk's in this than expected.
I'm gonna be real here, the flavor is extraordinary.  It's so savory.  There's a huge pop of flavor reminiscent of Worcestershire and onion.  The beef is bold and tender.  The egg is a fantastic topping and seals the whole experience.
I'm not sure how I feel about the ketchup.  I mean, it's good, it's got a note of sour to it, which I like.  But to me, egg just doesn't work with ketchup.  I'm probably in the minority, so take that for what's it worth.
The Texture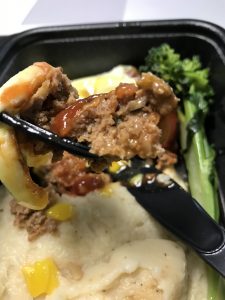 I'm trying here, I really am.  But as I begin chewing on it I still feel that texture of chewed up bread and meat together.  Why? Why is this something people like?
I'm not disgusted by this dish at all.  In fact, I ate the whole thing and really enjoyed it.  But if I went to Libby's for a meal, I wouldn't order it again.  Ugh, I was really hoping this gourmet version would be the game changer for me.
On to the next loaf tomorrow!
Conclusion, Judging & Score
That taters are great and the gravy is over-the-top delicious.  I mean it's thick, packs a serious tangy and meaty punch and they gave me a LOT of it.  I've never had Libby's food before and though I won't be getting the meatloaf, I'm going back soon to try more dishes.
To Judge or Not To Judge
I must be fair.  Just because I, personally, don't like the technically appropriate texture of meatloaf I can't take points for it.  I'd like to keep the egg and ketchup blend away but honestly I think egg adds to the experience more than the combination takes away so there will be no points docked for that.  As we all know, meatloaf is supposed to have a layer of ketchup.
So how about that?! Our first meatloaf review is getting a PERFECT SCORE!
Overall Score: 10/10