Location: Serving Spoon
Dish: Croissant Breakfast Sandwich
I moved to Sarasota in June of 2009 right out of graduate school.  I was in NY at Syracuse University and offered a job managing the website for Sarasota Memorial Hospital.  It was a killer first gig opportunity.  Never thought I'd end up in Florida, but what the hell.  My parents were from Plant City and Tarpon Springs so we came down all the time to see family growing up.
I worked in the marketing department.  Soon after I joined the team our offices moved over to a building off Hillview.  I became a regular at Serving Spoon amongst other spots on the strip.
The diner style layout is fitting for the hearty, classic breakfast dishes.  You gotta love the skillets.  The omelets are big, fluffy and filled with quality ingredients.  You can't go wrong.
The Croissant Sandwich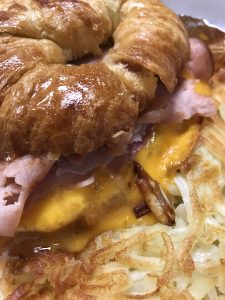 But my favorite has to be the croissant sandwich.  I get egg, ham and cheese and they are so lovely to ask how you'd like your egg prepared.  Personally, I recommend going over-easy but if you are needing to keep yourself fairly clean, over-medium works best.  I went with over-medium today as I was taking it to-go to my office and, you know, computers and stuff.
They don't screw around.  These sandwiches are LOADED with your selected items.  I got cheddar today, you can pick any cheese you want though.  The yellow goodness was melting out all over the place.  The ham was bursting out of all sides.  The egg: perfectly cooked.
Then we get to the bread.  That fluffy, buttery croissant is so delicate and sweet.  I'm not a bread person.  I like my pizza thin crust, I like my burgers bunless.  If order a biscuit sandwich somewhere, I take off half the biscuit. I just don't like a lot of bread clogging up my bites that should be meat and cheese heavy.
But croissants… Mon amour pour toi est éternel! I can't get enough.  It's so fluffy and flaky and BUTTERY.  Maybe that's why I love it so much.  Don't croissants basically replace any water with butter in the dough? Who knows; I'll eat these guys any day of the week, any meal.
One thing I forgot was the dijon.  Ask for dijon on the sandwich, it takes it to the next level.  If you are feeling frisky get some mayo and pickles on there too.
The Browns
You get a choice of side.  I usually go with hash browns or home fries.  The hash browns were amazing.  The tendrils can be a few inches long.  They obviously shave the taters themselves.  The Mallard reaction crusting is perfect over the tender insides.  My only issue is my office had freaking Hunt's in the fridge and they didn't offer any ketchup packets as I was paying.
Conclusion
Really doesn't get much better than this for breakfast.  My biggest complaint is the coffee is terrible.  Bad coffee at a diner is ok and expected.  But when the food quality is this good, you'd expect some decent coffee to go with it.
I mean, this coffee is worse than most diners.  It's watery and thin and tastes like burnt dirt.
Overall score: 9/10