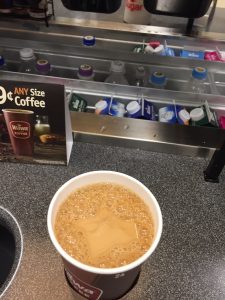 Location: Wawa (301 & Beneva)
Type: Breakfast
Dish: Chicken & Cheddar Omelet (Omelet du fromage)
The Wawa hype is real.  When the first few got announced there was local media coverage, every mother fucker on the street was talkin' about it.  "DUDE, WE'RE GETTIN' WAWAS!" Last time I saw that crazy eye was when Trader Joe's was announced.  I've been to Trader Joe's twice since it opened.
It's okay I guess.
The Environment
Took me a little bit but I jumped on the hype train.  I kept hearing they had awesome food for a gas station.  Lots of people will say "dude, it's a gas station" and I get that, I should've known that, but there's always hope.
When I lived in Germany I would drive between France, Netherlands, Switzerland and Italy a lot.  The bigger gas stations along the interstate/autobahn tended to have some decent food offerings.  And in Switzerland especially we had these gas station stops right on the side of the highway with restaurants called marché inside them.  Incredible, fresh food, baked goods, hot meals, I got spoiled.
Wawa gave that image in my head when I saw it built.  It had a nice patio area and what appeared to be a cleanly, structured inside with a nice food area.  It also had that European gas station branding vibe. So forgive me for having a sliver of hope.
The Food
The coffee is gas station coffee.  I like how they have all the different creamers in a chilled tub that you just help yourself to, but I got the Colombian extra bold stuff with a little half & half and it just tastes like burnt gas station coffee.  Which is fine.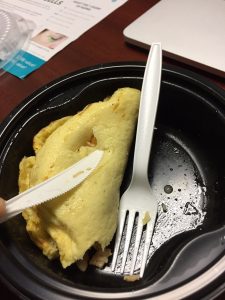 The omelet was confusing though.
I got a little pissed off the first and only other time I've been here for breakfast.  They have this fancy ordering machine that you touch options and place your order then they print you a little ticket.  That little ticket has your number on it that they call when it's ready.
Like I was saying, last time I was here I got a breakfast bowl.  I'm watching my carb intake.  Got egg & bacon but there was no way to add cheese.  What the ever loving FUCK?! Unreal.  Breakfast bowl without cheese.  I was so mad I haven't been back until today.
Omelet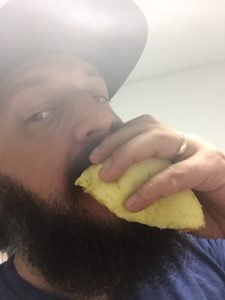 So the omelet is a new thing on the menu or so it tells me.  I liked the customization options though. Lots of choices, I went with chicken and cheddar, salt and pepper.  My printed ticket said "omelet steak chicken" which made me wonder if I fucked up.  Turns out I didn't, no steak.  I'd have been happy with that mistake.
This thing is going for the French style omelet I guess, open faced.  Except instead of a fluffy, buttery, pan fried egg cooked to perfection with a fine melting cheese, it is a reheated egg circle in a speed oven then topped with a slice of square, pre-cut "cheddar" and your topping dumped on.
I tried cutting it with a knife and fork but the chicken bounced around every where.  So I tried folding it myself, but then cutting was a nightmare and it flopped around like a dead fish.  So I folded it and ate like a burrito.  Toppings were still escaping all over the place but at least I was getting a good bit in my mouth.
The cheese had terrible coverage.  Only three bites or so did I actually taste a spritz of cheddar.
The chicken was over salted, tough but kind of grainy at the same time.
Conclusion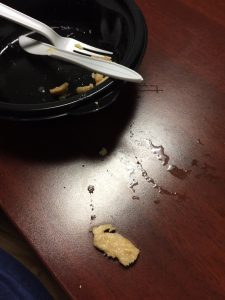 Fuck this place and their shitty gas station breakfast.  It ain't no better than any other gas station breakfast I've had and I got all hyped up.  Over it.
Overall Score: 3/10
Sponsored, by part, by: https://www.pickandbrew.com