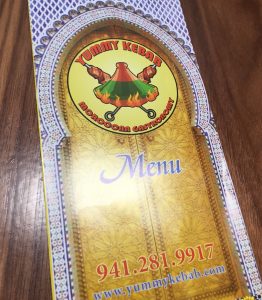 Location: Yummy Kebab Food Truck @ Calusa Brewing
Count: 6
Flavor: House Yummy
Dipping Agent: House Yummy
I posted on Facebook that I was about to head over to a friends to eat some wings and a friend commented there's a food truck at Calusa Brewing serving some good wings right then.  Seeing as I live only a couple miles from Calusa I decided to go check them out.
I pulled up to find Yummy Kebab, a Moroccan inspired food truck with a wide array of dishes.  I  knew right away not to expect traditional buffalo wings so I placed my ordered and prepared myself to review something different than the norm.   I can't use all my standard reviewing criteria as this is not expected or presented as a standard wing.
The Skin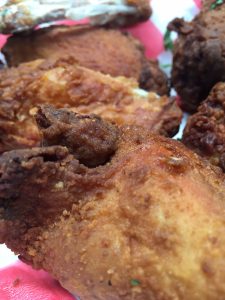 When the dish arrived the first thing I noticed is they are naked with a dipper and the skin looked breaded.  If you know anything about me I am not a fan of breaded wings at all.  But, again, this is different than the norm and I have to give it a fair shot.
The skin was lightly coated and not breaded as we have come to know fried chicken in America.  I'm guessing a light coating of corn starch and some dry spices.  It was amazing.  It was so crispy and there was no soggy breading.  I honestly had a debate in my head wondering if this was actually breaded or just fried some crazy high temp oil I've never known about.
It's definitely lightly coated though, there's no other way it could be like this.  And it was like crispy  butter nodules melting in my mouth.  I was stunned to find a breaded wing I didn't hate and actual enjoyed the outer layer.
The dipper
This was some sort of chili yogurt concoction.  Maybe mayo but the zestiness def reminded me of yogurt and being Middle Eastern inspired just made more sense.  It was "yummy" for sure but made it tough to dip.  I'd honestly be very interested in having these wings tossed in it right out of the frier. It definitely promoted a more thorough flavor and tasting experience though, so it served its purpose.
Conclusion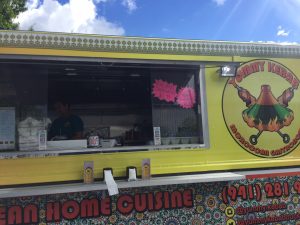 The wings were big and meaty and tender with a super crispy, lightly breaded outside.  They were cooked very well but I have to dock a few points on the overall wings for a couple reasons.
There were some very large and odd fatty bits in these that I don't see typically in wings.  I think they may be related to the giant size of some of them.  Again, another downfall of the massive wing and why I prefer a medium sized, meaty wing.
Around three of them were actually on the edge of burnt and you could taste it in the very dark, overly crisped skins.
In the grand scheme, Moroccan-inspired wings are a delicious treat but a little tougher to eat than I typically like.  When you found a good, awesome bite, they were divine but the short comings of finding that bite by dipping correctly, not getting a burnt piece or a fatty bit made it a challenge.
Overall Score 7/10.