Location: Evie's Tavern on Main
Count: 16
Flavors: Extreme Heat & Honey Ginger
Dipping Agent: Blue Cheese & Ranch
Just put down 16 tasty wings over at Evie's on Main.  On Tuesdays if you get a drink (beer, cocktail) you get wings for $0.69 each.  I got 20: 10 Extreme Heat and 10 Honey Ginger.
The wings themselves were great.  Good & Crispy, bigger than average (but not massive which is good), and juicy.  No odd shaped ones and the presentation was very inviting.
The Flavors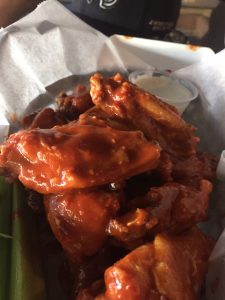 Honey Ginger was the best.  It was a sweet thai chili glaze with a nice honey flavor and bursting ginger flavor.  Seriously delicious, this sauce is now in my top 5 in town.
A couple of these wings weren't coated completely but overall there was a good presence.
The Extreme Heat was barely hot, but the waitress warned me of this so I was prepared for just a typical buffalo sauce.  And that is what I got.  Typical, maybe Franks, mixed with some butter and coated heavily.  Heavier coating doesn't add up the heat, what it does do is make any wings that aren't quite to the appropriate crisp level stand out because they sog up a bit.
I definitely kept my attention more on the honey ginger.
Conclusion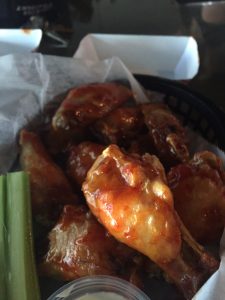 The blue sauce was a bit thin and minimal chunks, not much flavor.  They accidentally brought me ranch with the honey ginger and I just used that for those guys as it at least had a decent amount of flavor.
The celery was flimsy which is always a disappointment, but end of day this was a great wings experience and I can definitely recommend these guys.  I'd stick with the fun flavors though unless you just want some standard buffalo wings.
Overall Score: 7/10