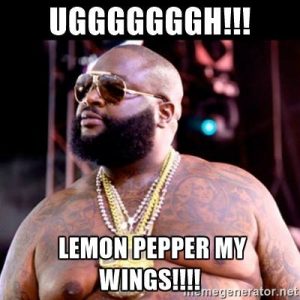 Location: Wingstop (Bradenton)
Count: 15
Flavors: Mango Hab, Spicy Korean Q, Hawaiian
Dipping Agent: Blue Cheese
Saw this place on the map when looking for some new wing joints to check out.  The vibe I got walking in is it's a chain of some sort.  Probably a small chain, but the branding and interior design showed a real marketing team and business strategy.  Turns out it is.
"I just love Wingstop," say Rick Ross who owns 7 Wingstop franchises in Florida.
The Wings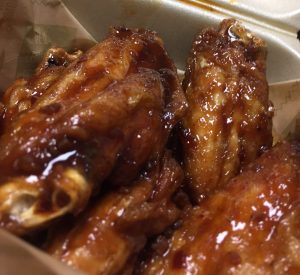 The wings are pretty good.  There's some inconsistency on crispiness which has me looking around the selection before picking each one.  Some of the meat is a little squishy, but just a few little spots.
Overall the wings are fine and satisfactory.  I'm enjoying them.
The Flavors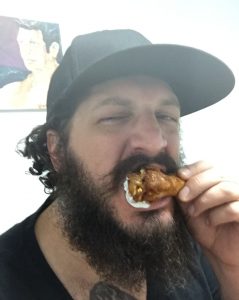 Mango Habanero
Meh, I think it's my fav of the three but it's still boring.  No real heat and has some jelly like consistency in parts.  I will give them points for the actual mango flavor coming through though.
Spicy Korean Q
On second thought, this is the best of the three.  It's got a bold soy and asian bbq flavor.  It coats well with a good consistency and really lingers.  Can stand on it's own but def good with the blue cheese.
Hawaiian
Definitely the weakest link here.  Not much flavor at all, I think they are trying to get a little islandy sweetness through but it's very subtle.  It's dark in color which doesn't make sense to me.
Conclusion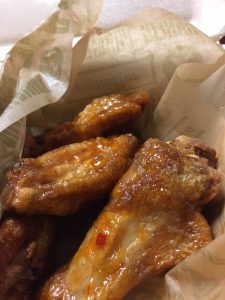 Eeeeehhhhh, they were alright.  I'm not gonna be going back unless I'm passing by and super hungry.  Too many better options around.  When you have a boatload of sauce options like they do they should make them good and not so generic.  And the mango hab was the 2nd hottest on the menu but literally had no heat.
The wings were inconsistent and some were really tiny and bony.  But, hey, the blue cheese was really good and a pretty big container!
Overall Score: 5/10