Location: Sarasota Lanes
Count: 9
Flavors: Nuclear
Dipping Agent: Blue Cheese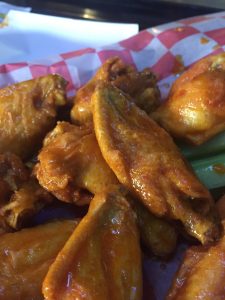 This may be the 2nd or 3rd highest recommended wings location since I started this.  I just couldn't get over it being a bowling alley.  We've all had bowling alley food and we all know what to expect when ordering food at one.
It's on my way home from work so I decided to stop by since I had no obligation tonight.  My wife said she'd meet me so I could buy her some dinner.
Had to sit there for 30 freaking minutes waiting for her.  Whatever, I digress.  Got a couple Stella Artois's in and caught some shitty pokemon while waiting.  (There's two pokestops there).
The Wings
I ordered 10 wings for $8.  I got Nuclear because I was getting a little tired of all the "flavors" and just wanted some hot wings.  I'm not stupid, I knew they'd be far from nuclear, but I wasn't really wanting earth shattering heat right now either.  Can't a man just get some buffalo wings some times?
They came out steaming.  They came out looking really nice.  I was a bit shocked honestly.  They also came out with a prepackaged Hidden Valley blue cheese dipping cup.
I looked at my wife and said "strike one."  I didn't realize until typing that just now the irony of being in a bowling alley.  If I had, I would've got the second layer of that irony in how a strike is an awesome fucking thing when bowling.
I Just Want Some Good Wings
And goddamn did I get some.  These wings were perfect.  They were crispy on the outside, meaty on the inside, and the perfect medium size.  No bones broke when dragging the meat off the flats against my teeth.  There were no odd shaped ones with weird extremities.  I didn't have a couple chewy skin looking ones that I had to pick around.  They were just a tender wet dream of poultry delight.
The Flavor
It was a straight up, 100% pure buffalo sauce.  Nothing fancy, nothing extreme, nothing extraordinaire.  And it was the best combination possible with that pinnacle of hot wing and disco atmosphere.
Overall
Right after I ate the first wing, Kristi (my wife) looked at me and I was staring into the basket lost in gathering my thoughts.  They were a mixture of confusion, satisfaction and losing my train of thought in general.  She says, "They good?"
I look at her and said, "they're perfect."
So after my blue cheese remark she starts giving me suggestions, "So a 9.5?" and my mind snaps back to reality.
I start thinking and talking like I'm in review mode "well gotta dock  for the blue cheese and the nuclear is far from nuclear so I dunno maybe an 8.5 or 9."  Then I continued to eat.
By the 6th one I look over at her and say, "nah, it's a 10."  There was something about that cheap hidden valley that just worked so well with these.  I mean, we all know it's a step above Ken's.  Hidden Valley is far from off putting.  It's a guilty pleasure, or your typical veggie platter dip.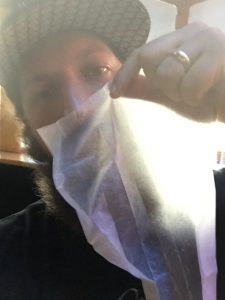 I can't explain it, but the environment and the combination of sauce, dipping agent and PERFECT wings couldn't have left me more satisfied.
So congrats Sarasota Lanes.  You are the second commercial establishment to reach a perfect 10/10 and the first to do so with traditional buffalo wings.
Side Note: The hand wipes are incredible.  They are as big as a paper towel and don't shred up in your hands when trying to clean your face and shit.  Fuck yea for that.
Update: I've been informed the wings come with a dill sauce dipping agent that's supposed to be freaking awesome but since I asked for blue cheese they gave me blue cheese.  Wish I'd known! guess I'll have to go back.
Overall Score: 10/10